OnYourMark, LLC
Web work when results matter.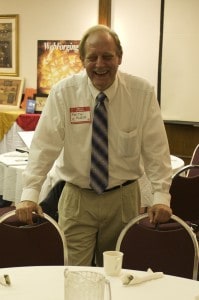 Custom built websites and
internet marketing are our specialties.
Specialties include:
   WordPress Sites
   Search Engine Optimization
   E-Commerce
   Integrated Marketing
   Social Networking
OnYourMark, LLC consists of A Fine Family of Companies tightly integrated to bring unprecedented levels of web expertise and service to small and medium sized businesses. Each division represents a core technology and marketing focus, integrated so each can bring added value to the other, and separated just enough to offer "best of breed" technology and service.
Keith Klein
Author of WebForging, A Practical Guide to the Art of Forging Your Web Presence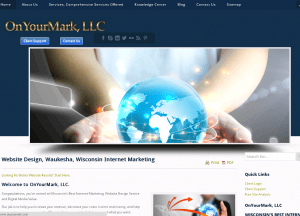 OnYourMark, LLC
Google Phone: (262) 820-8201
Keith-Mobile:  (262) 853-7900
Meetings Address, By Appointment
1025 South Moreland Road, Suite 615
Top Floor, Midway Hotel & Suites Office Tower
Brookfield, Wisconsin
Billing/Mail Address:
W215 N5475 Adamdale Drive
Menomonee Falls, Wisconsin 53051
You'll often find me on the phone or in a meeting, calling on a prospect or following up with a client to forge new opportunities for them on the web.   I'm responsible for marketing and sales, hiring and firing, purchasing, and for harnessing technology and the talents of our staff to benefit our clients.
Internet marketing is my passion. I got into the industry because I knew we'd be able to help clients – and I knew being in the business is the only way I could afford to be the internet junkie that I am.
Main Keith Klein information site:  KeithKlein.me
You can find me online at hundreds of sites, including:
Flickr.com
GoodReads.com
McAfee Site Advisor
Meetup.com Profile
MySpace.com
MyWOT.com
NamePros.com
I enjoy reading, media, writing, speaking, social networking, marketing, sales, camping, canoeing, beer, ideas….
Regards,
Keith
[button url="http://www.OnYourMark.com/" class="button" size="small" color="green" target="_blank" lightbox_content="" lightbox_description=""] Visit OnYourMark [/button]