Be Prepared to create stronger networking connections.  Be Prepared is not just the Boy Scout motto.  It's the way to get the most out of your networking efforts.
Whether you aim to do personal or professional networking, Meetup.com is a great site for enlarging your network.   Here we'll share a couple of tips to use at Meetup.com and other networking sites to help you make stronger networking connections.
Before you go to your networking event or Meetup, take a look at who else will be there.  At meetup, just click on their names and you'll be taken to the profiles of attendees.  Make a list of two or three (or more) who you'd like to meet.  Have a question or two in mind for when you meet them.  Include "I noticed on your Member profile that your ideal prospect is "X" – can you tell me more about that?  Or, your profile says you're also a Member of "X" groups; how do you like them?
The first time I shared this tip with a member of Wisconsin Business Owners, just before a Meetup, she was looking at the list of attendees online and exclaimed, "Welcome, Theresa" as the new member who'd registered walked through the door.  Theresa was pleasantly surprised to be so warmly greeted by name, and a light bulb clicked on for the member who greeted Theresa.  Both got off to a strong start for the day.
Of course, if you want to be recognized, do your profile with a picture of you.  This allows everyone to learn more about you and your business before and between meetups.  We have a 5-minute video for doing your Wisconsin Business Owners Meetup Member Profile at https://www.meetup.com/wisconsin-business-owners/messages/boards/thread/49868680
A few of our Members, great advocates of helping others create stronger networking connections
Jamie Shibley
Wisconsin Business Owners sponsor,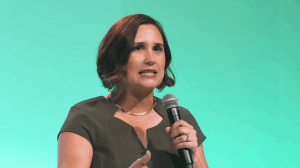 Jamie is the owner of The Expressory.  See her video at her page here…a clear expression of the importance of a personal touch!
Stacy Kaat
Former Organizer and long-time member of Wisconsin Business Owners, Stacy helps people with pictures at Stacy Kaat Photography.
Bill Sargent
Long-time regular, Bill Sargent is also a photographer, specializing in natural light photography (among many other things!).  View portrait samples here.
There are a number of ways to create personalized, memorable and stronger networking connections.  Ninety percent of success is showing up.  Ninety percent of the remainder is your attitude once you show up!
5 ways to create stronger networking connections
From TED at Work:
In a tech-obsessed culture, it can be difficult to build genuine relationships with people, especially in the workplace. Robert Reffkin shares his tips and tricks for establishing authentic connections on the job.
Robert Reffkin is on a mission to help everyone find their place in the world.
Why you should listen
Robert Reffkin was inspired to enter the world of real estate by his mother, Ruth, a longtime agent who now proudly works at Compass, the real estate company Reffkin cofounded in 2012. After completing a bachelor's at Columbia University in less than three years, Reffkin worked at McKinsey, Goldman Sachs and as a Fellow in the White House before returning to Columbia for his MBA. He ran 50 marathons in 50 states to raise $1 million dollars for charities — including for New York Needs You, the non-profit he founded to serve young people living below the poverty line who are the first in their families to go to college. Reffkin lives in Tribeca with his wife Benis and their three children.