"Hold me now, it's hard for me to say, I'm sorry" (With apologies to Barry Manilow)
By Dave Wallace
Why is saying "I'm sorry" to a client so hard to utter?
When you apologize, do you apologize for your apology?
Did you know that if you apologize incorrectly it can be fatal to your business?
If you're in business, you've made mistakes. After all, we're all human. So, you apologize. But, did you know that a poorly crafted apology can do more harm than good? Learning how to apologize is critical to your ongoing success, unless you're the one business in the world that never makes a mistake!
In our time together, you'll learn about a scientific theory called the "Service Recovery Paradox (SRP)".   You'll learn the key elements of a business apology. And, most importantly, you'll learn how to choreograph a business apology to maximize the SRP.
Register if you want to have your business apology prepared in advance!
ATTENDEE BONUS: Attendees to this workshop will be able to schedule a 1:1 meeting with me to discuss your sales challenges. It doesn't have to be about business apologies, it could be about anything having to do with your sales/business development efforts. Special attendee pricing will be explained at the event.
MEET OUR EXPERT: DAVE WALLACE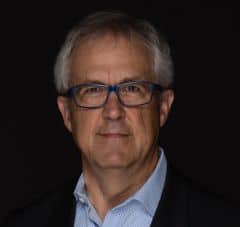 B2B sales are more complex than ever. Status quo bias is real and incredibly difficult to overcome. Storytelling is of paramount importance in sales. And businesses that focus their storytelling efforts on organizations that they can confidently define as an ideal customer increase their average sale size, decrease the length of their sales cycle, and increase their pipeline close rate. Translation: they increase revenue.
With 42+ years of experience, there isn't much I haven't seen, experienced, or had to deal with. I've been where you've been, felt what you've felt, and done what you've done.
I'm a proud graduate of the University of Notre Dame. In November 2017 I became an Amazon #1 Bestselling Author. My wife and I have two children, one grandchild, and an English Setter.
Outside of work, I'm a passionate cyclist, logging in excess of 7,000 miles per year and running a 300+ person cycling group. Cycling has taught me three important things that are directly applicable to my work: humility, tenacity, and teamwork.
CONTACT INFORMATION: DAVE WALLACE
Dave Wallace
(414) 375-0253
davewallace@bayridgeconsultinggroup.com
ITINERARY, FRIDAY, FEBRUARY 28, 2020
9:15 – REGISTRATION & OPEN NETWORKING
9:30 PRESENTATION
11:00 – ENDS
BUT STICK AROUND! OPEN NETWORKING FOR ANOTHER FULL HOUR BEFORE OUR NEXT EVENT – OUR LUNCH & LEARN
Info & Separate RSVP for our Lunch & Learn at
https://www.meetup.com/wisconsin-business-owners/events/268521659/
***YOU MAY BE VIDEOTAPED or PHOTOGRAPHED AT OUR EVENTS***
Your attendance means you may be shown on tape…and you're okay with that!
Please contact "Contact the Organizers" with suggestions or questions, anytime.
MEET OUR ORGANIZERS & SPONSORS:
Thanks to our Organizers & Sponsors:
Tamara Burkett https://www.wisowners.com/members/tamara-burkett-selassie-enterprise/
Maggie Mongan https://www.WisOwners.com/members/maggie-mongan-brilliant-breakthroughs-inc/
Mark Mullarky https://www.wisowners.com/members/mark-mullarky-mullarky-business-systems/
Mike Raber https://www.wisowners.com/members/mike-raber-micro-business-corporation/
Sponsors:
Jamie Shibley https://www.theexpressory.com
Dave Walter https://www.TiteSpot.com
Jennifer Bartelt https://www.MainStreetFraming.com
Gerard I. "Jerry" Schritz https://www.intelegist.com
Gail Yaeger https://www.DoveCelebration.com
Ben Houle https://www.ButchersCatering.com
***SPEECHES MAY BE VIDEOTAPED or PHOTOGRAPHED***
Your attendance means you accept being shown on tape +/or in photos.
Regards,
Keith Klein
https://www.wisowners.com/members/keith-klein-onyourmark-llc/
262-853-7900
https://www.WisOwners.com < Register & Create Your Free Profile today
Author, WebForging,