7 New Strategies for Relationship Building in the Attention Age
By Jamie Shibley
– Relationship building is important!  Did you know, the average business loses around 20 percent of its customers annually simply by failing to attend to customer relationships?
– Is your relationship building strategy earning the attention of your customers?
– Are you effectively re-engaging your existing customer base?
Technology has certainly changed the way we do business, but the way we build relationships needs to adjust as well.  Our customers have had enough of being just another number in our call log and are now expecting more in exchange for loyalty.
In this presentation we'll discuss The Attention Age and why it's having an impact on your relationship building efforts.  We'll also review steps you can take now to adjust your customer experience so that your brand is creating the personalization that customers are craving.
If you aren't receiving your fair share of repeats and referrals, you'll want to join us to learn how you can improve the relationships you have with your clients.
MEET OUR EXPERT: JAMIE SHIBLEY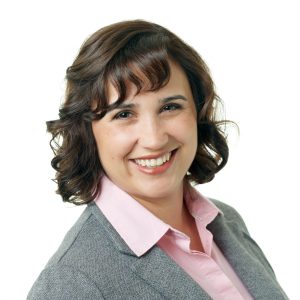 Jamie Shibley is the CEO & Co-founder of The Expressory, a relationship marketing service that helps business owners maintain a personal touch in their relationship building efforts.
Jamie understands that in today's high-tech world consumers and businesses alike are forced to ration what gets their attention. As such, we are experiencing an age where we spend less of our time creating quality relationships and more time being proud of the on the quantity. In business, our customers are now demanding more. Jamie wants to help business owners navigate this shift in customer expectations for a more personal relationship with the companies they do business with.
Jamie spent the last 7 years managing eCommerce websites for major consumer packaged goods brands, where she witnessed firsthand the negative impact of impersonal customer service on well-known brands. Prior to that, she spent 13 years in various IT-related roles. Jamie holds a degree in Management Information Systems and a Masters in Project Management. And, of course, in her free time, she enjoys crafting and creating handmade gifts.
CONTACT JAMIE SHIBLEY:
Website: TheExpressory.com
Email: jshibley (at) TheExpressory (dot) com
Phone: 414-243-8971
***Come Join Us!***
RSVP at https://www.meetup.com/wisconsin-business-owners/events/249538877/
Click on the "I'm going box" to start your registration now.
You will be able to reserve your seat to network with other authentic relationship builders. Bring plenty of business cards and brochures to share!
***ITINERARY Friday, April 27, 2018***
11AM – MEET & GREET
OPEN NETWORKING BEFORE LUNCH
This is the start of the Lunch & Learn…
early arrival allows more open-networking time.
12:00 (Noon) – All-You-Can-Eat Buffet & Salad Bar!
Network with great Business Owners and build strong
relationships at your table while Lunching
12:30 to 12:37 – Break for seconds, then settle in…
12:37 – Keith's Minute
12:40 – Speaker Introduction
12:45 – Speaker Presentation: Jamie Shibley
1:15 – END / Prize Drawings
1:25 – End… or stick around to build relationships!
***SPEECHES MAY BE VIDEOTAPED or PHOTOGRAPHED***
Your attendance at Wisconsin Business Owners means you may be shown on tape…and you're okay with that!
MEET OUR SPONSORS & ORGANIZERS:
Tamara Burkett of Tamara Burkett
Learn how to build lasting business relationships
https://www.TamaraBurkett.com
Earl Smith (https://www.linkedin.com/in/earl-smith-64586641), Consultant / Legal Shield
Stacy Kaat of Stacy Kaat Photography (http://www.StacyKaat.com)
She makes YOU look like a million!
Mark Mullarky of Mullarky Business Systems! Mark is your man for Computers and Computer Networks. http://www.MBSWI.com
Maggie Mongan of Brilliant Breakthroughs, Inc. simplifies your business success https://www.BrilliantBreakthroughs.com
Ron Chandler of Summit Investment Management, Ltd.
http://www.suminvest.com
— Thank you to our Organizers! —
Jamie at http://www.TheCardcierge.com ~ offering busy professionals a convenient greeting card service
Jennifer at http://www.MainStreetFraming.com in Lannon – Frame Your Awesomeness!
Gail Yaeger, Chief Flight Attendant at https://www.DoveCelebration.com
Gerard I. "Jerry" Schritz, Phone and Public Address Design, Sales, Installation & Repair at https://www.Intelegist.com
Nathan Klein, Patriot Lawn Care & Landscaping services at https://www.PatriotLCL.com
Barbeques by Ben Houle of https://www.ButchersCatering.com
—-Thank you, Sponsors!—-
Get in touch with Maggie & me through the
"Contact Organizer" link on Meetup:
http://www.meetup.com/wisconsin-business-owners/suggestion/
Regards,
Keith Klein
Organizer, Wisconsin Business Owners
https://www.WisOwners.com
Owner, OnYourMark, LLC
https://www.OnYourMark.com
Google Phone: 262-820-8201
Author of WebForging
https://WebForging.com
p.s.:
LinkedIn
https://www.linkedin.com/groups?home=&gid=1795298
@WisOwners at Twitter https://www.Twitter.com/WisOwners
Facebook
https://www.facebook.com/Wisconsin-Business-Owners-170246793991/
Google Plus
https://plus.google.com/+Wisowners-meetup/