Wis Business Owners Lunch & Learn –
FearMotional: Learn to change by overcoming fear and failure
Presented by Darren Fisher
Come join us!  RSVP at https://www.meetup.com/wisconsin-business-owners/events/242520254/
PLEASE NOTE: WE'RE ENTERING THE OFFICE TOWER ON THE LEFT SIDE OF THE BUILDING.
1025 South Moorland, 1st Floor (Enter, turn left, people to greet you!)
FearMotional: Learn to Change by Overcoming Fear and Failure
By Darren Fisher
·  Why is it so hard to change?
·  Why does fear grip so many leaders and business owners?
·  What part do emotions play in your decision making?
The success of a business owner is contingent upon their ability to repeat successful behaviors and avoid known failing behaviors. This is difficult to do when balancing financial needs, demanding customers, and overcoming fear of business failure.
During our time together:
•  Learn how to move beyond embracing change and actually changing behavior
•  Learn the three behavioral reactions to stress (flight, fight, freeze)
•  Learn the four aspects of how we decided to react (trigger, feeling, decision, response)
•  Learn the power of emotions on our behaviors
If you are interested in overcoming fear then join us and learn how to grow your business strategically.
Reserve your seat now for December 1st Lunch & Learn!
MEET OUR EXPERT: DARREN FISHER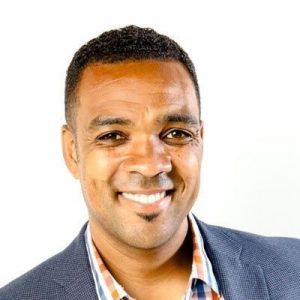 Darren Fisher started Spearity, formerly Darren Fisher Consulting, in 2010 as CEO and Lead Strategist. He is a best-selling author of, The Confidence Quadrant and is an international motivational speaker. Prior to this, he owned an IT services businesses because he is a bit of a geek. Darren is also an Air Force veteran with accolades for outstanding service, leadership, and technical ability.
Darren fundamentally believes there's excellence in everyone, so he's made it his mission to help others achieve a greater success.  Should his handwork yield explosive returns, his dream is to own the Milwaukee Brewers.
A self-identified nerd (he attended science camp in 8th grade), Darren is big on getting children involved in STEM-related activities.  Darren is an active volunteer in the greater Milwaukee Community. He is currently serving on the board for Gathering on the Green and Milwaukee NARI.  He has served as president for the Maple-Dale Indian Hill Education Foundation's, the president of the Nicolet basketball feeder program, and has coached numerous youth baseball, basketball, football, and softball teams for his children.
Darren holds a Bachelor of Arts degree from Marquette University and a Master of Science degree in Computer Science Ed from Cardinal Stritch University.
DARREN FISHER'S CONTACT INFORMATION:
Darren Fisher, CEO/Founder
Spearity Solutions
www.spearity.com
darren (at) spearity (dot) com
Office: 414.265.5755
Cell:  414.234.0555
***Come Join Us!***
Come join us!  RSVP now at https://www.meetup.com/wisconsin-business-owners/events/242520254/
***ITINERARY Friday, December 1, 2017*** 
11:00 – MEET AND GREET
OPEN NETWORKING FOR A FULL HOUR BEFORE LUNCH 
This is the start of the Lunch & Learn…
early arrival allows more open-networking time.
We encourage you to meet many during this time.
12:00 (Noon) – All-You-Can-Eat Buffet & Salad Bar! 
Network with great Business Owners and build strong relationships at your table while Lunching.
12:30 to 12:37 – Break for seconds, then settle in…
12:37 – Keith's Minute
12:40 – Speaker Introduction
12:45 – Speaker Presentation: Darren Fisher
1:20 – Prize Drawings   EXTRA-SPECIAL
1:40 – End… or stick around to build relationships!
***SPEECHES MAY BE VIDEOTAPED or PHOTOGRAPHED***
Your attendance at Wisconsin Business Owners means you may be shown on tape…and you're okay with that!
Please contact Keith or Maggie with suggestions or questions.
Come join us!  RSVP for this Lunch & Learn now!
https://www.meetup.com/wisconsin-business-owners/events/242520254/
MEET OUR SPONSORS & ORGANIZERS:
Earl Smith, Consultant / Legal Shield
Stacy Kaat of Stacy Kaat Photography
She makes YOU look like a million!
Mark Mullarky of Mullarky Business Systems! From 1-50 PCs,  Mark is your man for Computers and Computer Networks.  Learn more at http://www.MBSWI.com
Maggie Mongan of Brilliant Breakthroughs, Inc. Rocks!
Check out over 800 blog posts to simplify your business
https://www.BrilliantBreakthroughs.com
Ron Chandler of Summit Investment Management, Ltd.
http://www.suminvest.com
Lucas J. Robak of Skillset Life Coaching, LLC
http://www.LucasRobak.com
and our newest Organizer, Tamara Burkett
See www.TamaraBurkett.com and enjoy travel insights and savings!
— Thank you to our Organizers! —
Our newest Sponsor, a WisOwners regular, is Jamie at www.TheCardcierge.com ~ offering busy professionals a convenient greeting card service to make sure they are prepared for every special occasion.  Tell us what you need and we curate beautiful handmade cards to match.
Jennifer at http://www.MainStreetFraming.com in Lannon – Frame Your Awesomeness!
Gail Yaeger, Chief Flight Attendant at https://www.DoveCelebration.com 
Gerard I. "Jerry" Schritz, Phone and Public Address Design, Sales, Installation & Repair at https://www.Intelegist.com
Nathan Klein is a great source for Lawn Care & Landscaping services.
Find him at www.PatriotLCL.com
And get your barbeque on with Ben Houle of www.ButchersCatering.com!
—-Thank you to our sponsors!—-
You can always get in touch with Maggie & me through the
"Contact Organizer" link on Meetup:

http://www.meetup.com/wisconsin-business-owners/suggestion/
Come join us!  RSVP for this Lunch & Learn now!
https://www.meetup.com/wisconsin-business-owners/events/242520254/
Regards,
Keith Klein
Organizer, Wisconsin Business Owners
Contact Us
Owner, OnYourMark, LLC
http://www.OnYourMark.com
Google Phone: 262-820-8201
Author of WebForging, A Practical Guide to the Art of Forging Your Web Presence
http://WebForging.com  This 242-guide is written in non-geek speak especially for business owners. Copies are available for $20 if Keith signs yours at the event!
p.s.: Link up with us on LinkedIn ~
https://www.linkedin.com/groups?home=&gid=1795298
Our focus moving forward is to extend the value of the enhanced relationships engendered in our Wisconsin Business Owners Group, in person and online. Extend the value of your deepening relationships with our LinkedIn Wisconsin Business Owners Group.
Find and follow (and re-tweet) us @WisOwners at Twitter!
Like us on Facebook at
https://www.facebook.com/Wisconsin-Business-Owners-170246793991/
Add us to your Circles at Google Plus:
https://plus.google.com/+Wisowners-meetup/