Wis Business Owners Lunch & Learn –
Why Your Headshot May be a Turn-off and How to Turn it On!
Presenter: Stacy Kaat
PLEASE NOTE: WE'RE ENTERING THE OFFICE TOWER ON THE LEFT SIDE OF THE BUILDING.
1025 South Moorland, 1st Floor (Enter, turn left, people to greet you!)
Please RSVP at https://www.meetup.com/wisconsin-business-owners/events/243594926/
Why Your Headshot May be a Turn-off
and How to Turn it On!
By Stacy Kaat
– Did you know that it takes 6 seconds or less for people to form an opinion about you?
– Do you know if your headshot is a turn-off or a turn-on?
– Your headshot is your First Impression online and it better be a good one!
During our time together, you will learn:
– Why your headshot may turn potential customers off.
– How you can work with a photographer to create a headshot that shows your value and personality.
– Why your headshot is an effective marketing tool to help you attract the Right Customers.
– Understanding your fear of being photographed and how to work around those Headshot Fears.
– What to wear, what not to wear and other do's and don'ts to think about before getting a headshot.
– How to hire the right photographer and make sure you are conveying the right message to attract customers.
If you are interested in creating an effective headshot, then join us and learn how to collaborate with a photographer to expresses your personality and value to help you attract the Right customers.
MEET OUR EXPERT: STACY KAAT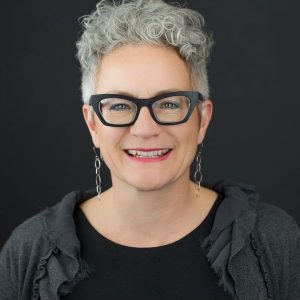 Four years ago, when I restarted my photography
business, I noticed how business had changed because of the internet. People were putting profile images of themselves on professional websites that were far from professional. I know that people that are busy doing business and don't realize the importance of the image they put online for the world to see and how it could ruin their reputation. I realized that I had a skill-set that I could use to help people look their professional best and convey a message about who they are in the business world.
My background as a hair and makeup artist and 20 plus years of expertise working in the commercial photography world kept me on top of every detail from lighting people and the environment to clothing, makeup, hair, and managing the visual clutter that was often present in an environment. My job also entailed making clients comfortable so they would feel confident and express that confidence in their photographs. The commercial photographers I worked with demanded that I oversee and manage the shoot so they could focus on photography. They expected me to make the clients comfortable as well. I learned how to do all that and make the photo shoot fun too!
STACY KAAT CONTACT INFORMATION:
Website: https://www.StacyKaat.com
Direct Email: stacy (at) stacykaat (dot) com
Direct Dial: 414-758-0622
***Come Join Us!***
Please RSVP at https://www.meetup.com/wisconsin-business-owners/events/243594926/
If you're not a member of Wisconsin Business Owners, the Group is FREE to join.
If you're already a Member, login, and Click on the "I'm going box" to start your registration now.
You will be able to reserve your seat to network with other authentic relationship builders. Bring plenty of business cards and brochures to share!
***  ITINERARY Friday, October 27, 2017  ***
11:00 – MEET AND GREET
OPEN NETWORKING FOR A FULL HOUR BEFORE LUNCH
This is the start of the Lunch & Learn…
early arrival allows more open-networking time.
We encourage you to meet many during this time.
12:00 (Noon) – All-You-Can-Eat Buffet & Salad Bar! 
Network with great Business Owners and build strong
relationships at your table while Lunching.
12:30 to 12:37 – Break for seconds, then settle in…
12:37 – Keith's Minute
12:40 – Speaker Introduction
12:45 – Speaker Presentation: Stacy Kaat
1:15 – Prize Drawings
1:25 – End… or stick around to build relationships!
***SPEECHES MAY BE VIDEOTAPED or PHOTOGRAPHED***
Your attendance at Wisconsin Business Owners means you may be shown on tape…and you're okay with that!
Please contact Keith or Maggie with suggestions or questions.
Come Join Us!
Please RSVP at https://www.meetup.com/wisconsin-business-owners/events/243594926/
MEET OUR SPONSORS & ORGANIZERS:
Earl Smith, Consultant / Legal Shield
Stacy Kaat of Stacy Kaat Photography
She makes YOU look like a million!
Mark Mullarky of Mullarky Business Systems! From 1-50 PCs, Mark is your man for Computers and Computer Networks. Learn more at http://www.MBSWI.com
Maggie Mongan of Brilliant Breakthroughs, Inc. Rocks!
Check out over 800 blog posts to simplify your business
https://www.BrilliantBreakthroughs.com
Ron Chandler of Summit Investment Management, Ltd.
http://www.suminvest.com
and our newest Organizer, Tamara Burkett
See www.TamaraBurkett.com to enjoy travel insights and savings!
— Thank you to our Organizers! —
Our phenomenal Sponsor, a WisOwners regular, is Jamie at www.TheCardcierge.com ~ offering busy professionals a convenient greeting card service to make sure they are prepared for every special occasion. Tell us what you need and we curate beautiful handmade cards to match.
Jennifer at http://www.MainStreetFraming.com in Lannon – Frame Your Awesomeness!
Gail Yaeger, Chief Flight Attendant at https://www.DoveCelebration.com
Gerard I. "Jerry" Schritz, Phone and Public Address Design, Sales, Installation & Repair at https://www.Intelegist.com
Nathan Klein is a great source for Lawn Care & Landscaping services.
Find him at www.PatriotLCL.com
And get your barbeque on with Ben Houle of www.ButchersCatering.com!
—-Thank you to our sponsors!—-
You can always get in touch with Maggie & me through the
"Contact Organizer" link on Meetup: http://www.meetup.com/wisconsin-business-owners/suggestion/

Come Join Us!***
Please RSVP NOW at https://www.meetup.com/wisconsin-business-owners/events/243594926/
Regards,
Keith Klein
Organizer, Wisconsin Business Owners
Contact Us
Owner, OnYourMark, LLC
http://www.OnYourMark.com
Google Phone: 262-820-8201
Author of WebForging, A Practical Guide to the Art of Forging Your Web Presence
http://WebForging.com This 242 page guide is written in non-geek speak especially for small business owners. Copies are available for $20 if Keith signs yours at the event!
p.s.: Link up with us on LinkedIn ~
https://www.linkedin.com/groups?home=&gid=1795298
Our focus moving forward is to extend the value of the enhanced relationships engendered in our Wisconsin Business Owners Group, in person and online. Extend the value of your deepening relationships at our LinkedIn Wisconsin Business Owners Group.
Find and follow (and re-tweet) us @WisOwners at Twitter!
Like us on Facebook at
https://www.facebook.com/Wisconsin-Business-Owners-170246793991/
Add us to your Circles at Google Plus:
https://plus.google.com/+Wisowners-meetup/
Come Join Us!***
Please RSVP NOW at https://www.meetup.com/wisconsin-business-owners/events/243594926/
p.p.s.: